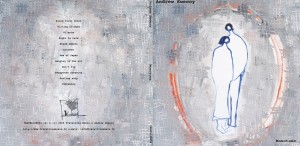 "Monotone like relentless rain on Paris rooftops, like the suburb trains that all arrive at Gare St.-Lazare, and the masses of humans going into the underground, monotone like work, sex and time. Monotonous like daily life, human obscurity, human love.
Monotone: for a time of violent obscurity, a purge of images, a travel down some dark tunnel, a healing darkness, a protest against speed, materialism. Towards the "unstuck sound." Hhmmmaaahummmmmm"
Andrew Sweeny, Paris June 4, 2005
Popnews cet album dévoile lentement son intimité, son souffle familier et rassurant, finit par envoûter totalement, jusqu'à devenir le compagnon idéal des longs mois à venir. Plus qu'à espérer que l'hiver soit à la hauteur du disque. Lien
Autres Directions Monotone brille et diffuse une chaleur bienvenue en cette période hivernale. Lien
A decouvrir absolument Chef-d'œuvre.
Indietronica Son disque est un bijou qu'on ne montre pas. Qu'on partage avec nos amis proches. Son disque est un présent. On referme les yeux et on se laisse conduire. Lien
La magicbox Le pouvoir émotionnel de la musique d'Andrew Sweeny déplace les corps vers le très haut (Night is calm). Tout cela avec une voix et une guitare. Le miracle se reproduit. L'album d'Andrew Sweeny n'est pas monotone (comme son nom pourrait le laisser croire), il est un remède à la monotonie. Lien
Foutraque Au finale, Monotone sonne à l'opposé de son titre, inscrivant Andrew Sweeny au panthéon des étoiles lumineuses de la folk terrestre. Lien
Psychevanhetfolk A beautiful, recommended album. Lien
Jade web La magie de l'humanité.